Recorded and Live Music Projects
---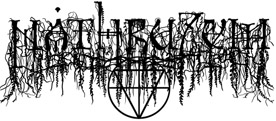 Nåthruzym
Green Mountain Black Metal

New Merch for sale to support the upcoming album!


Abatis Plague
Experimental solo project (under construction)
Past Music Projects (under construction)
Viru-Lence
Epochalypse
Steel Rain
Amatol
One of the projects I have on my many back burners is to re-record and/or remix much of the old music I've written in past bands and get them pressed.
Other Projects
---
The Graphic Novel: Chapter one, completed in 2005. I have been working on the script/storyboard since I finished the first chapter, though I lack the time needed to complete the entire book. Time will tell where it takes me.

Update:
I've recently decided to can the whole graphic novel idea, and instead take the less-travelled route of the illustrated novel. As of 2011, I have actually laid out the groundwork for most of one book and at least one sequel.